In 1841, Frederic Wright Unwin, a Sydney solicitor, purchased 5,120 acres or eight square miles of land approximately 10 km north-east of Melbourne, Victoria, Australia. The land was purchased from the Crown for one pound an acre under the terms of the short-lived Special Survey regulations. Ditto, Henry Dendy and his selection for the settlement of Brighton.
Unwin's Special Survey covered the area now bounded by the Yarra River (west) [taking in Heide Museum of Modern Art and Yarra Flats Park], Koonung Creek (south) [now the Eastern Freeway], Church Road (east) and Templestowe Road/Foote St/Reynolds Rd (north). It includes all of the Melbourne suburb of Bulleen (the anglicisation of the aboriginal name Bolin Bolin), most of Templestowe Lower and Doncaster, parts of Templestowe and Westfield Doncaster.
At the time you could not dispute how valuable the land was for agricultural. The selection was surrounded by water, primarily the Yarra river, but also taking in the feed and confluence of the Plenty River and also bounded by Koonung Creek which he shared with Elgar's selection. Rich alluvial lands and well-timbered hills. Virtually every farm allotment had a river or creek frontage. Fast forward, I am confident there are no longer any farms having being converted to reserves, golf courses and of course residential subdivisions. Walking the Main Yarra Trail is just breathtaking. You can see how the Heidelberg school of artists Arthur Streeton, McCubbin and Charles Conder fell in love with the area.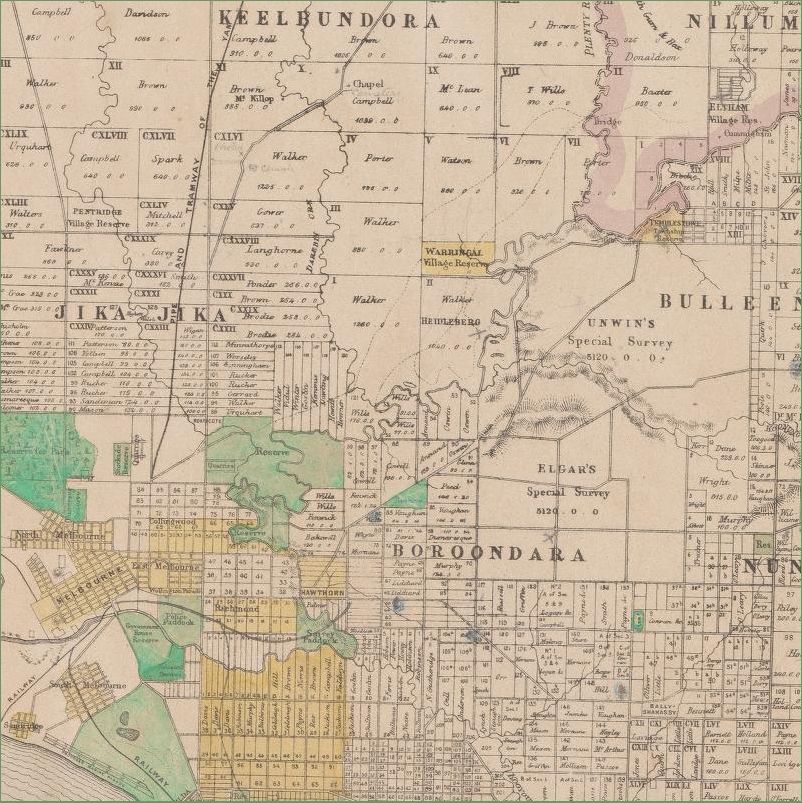 Government Gazette – Selections of Special Surveys – 4th March 1841
Doncaster Templestowe Historical Society
Assistant Protector William Thomas, appointed by the British government to monitor the treatment of the Aboriginal people of the Port Phillip region, protested against this purchase. He wrote to his superiors "when Bolin and the few lagoons adjacent become private property it will be one of the most serious losses experienced by the blacks". He was unsuccessful in securing access for them and the Kulin lost another traditional gathering place.