Have you unintentionally and recently built over your neighbour's title? It shouldn't happen. It does happen. It can be a big problem.
This situation does occur. And its a problem occurring with more frequency as building plans are drawn to build upon the boundary or boundary to boundary without a setback.
There are a couple of scenarios
You have actually constructed a building within your existing fence line but the building straddles the surveyed title boundary. That is you have built on your neighbour's land; or

You have plans drawn and approved to build to your title boundary but later discover your neighbour occupies part of your title. The fence does not sit on the correct title boundary.
Today, we are going to look at the first scenario.
The first you know about it is your neighbour comes knocking on the door claiming you have built on their land.
A big part of the reason of why and how this happens is we too often make assumptions. The assumption is the existing fence or the existing wall has always been there and that the fence or wall had been built on the correct title boundary. Then the new building works commence and are done within the pre-existing fence line or old building line. And because you didn't get a check survey or re-establishment survey done by a surveyor you didn't know you were in fact building on or encroaching on your neighbour's title.
The problem is the neighbour may not accept your reasons and raise the matter to a level where they may for example engage a Building Surveyor to issue a show cause Building Notice under s106 of the Building Act Victoria 1993 along the lines the building works have been carried out on the building/land in contravention of the Building Permit in that: "the extension to the dwelling has been constructed over the title boundary". This is and does happen in Victoria. In NSW there is legislation to forgive such mistakes and the remedy is payment of compensation. In Victoria there is no equivalent legislation. If the show cause notice is not addressed, an Order could be made for the building works to be demolished.
This is the time you need to instruct an experienced property / building lawyer and to navigate your way to making the situation good. You need to avert the situation spiralling out of control.
An example of a case of the "$1M extension" gone astray. God wants his 13cm back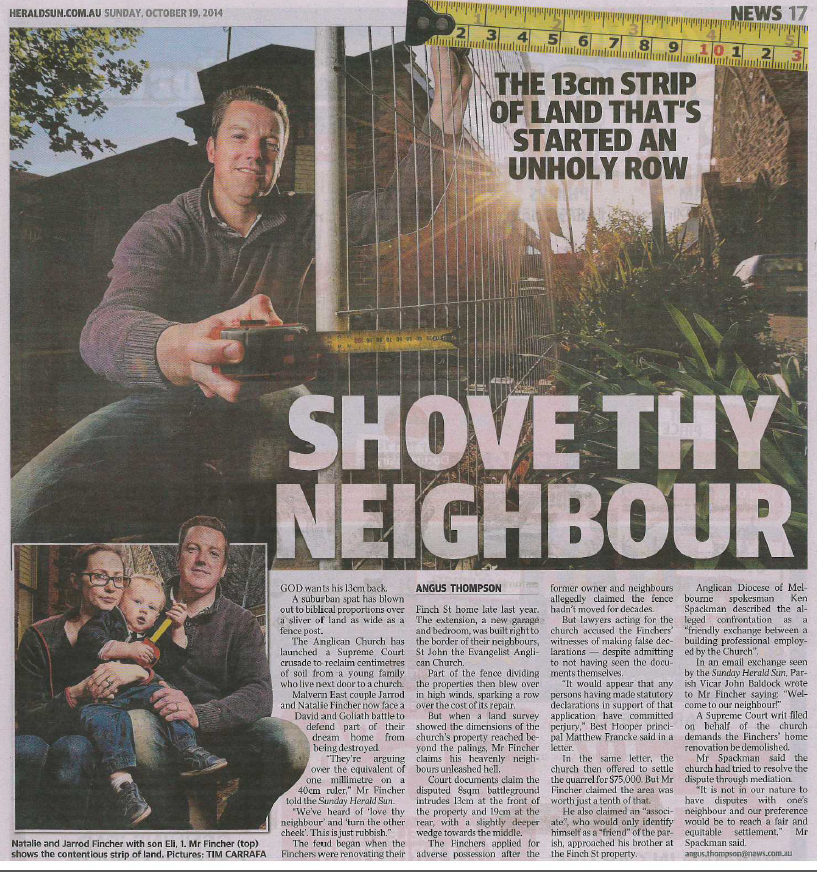 If you find yourself in such a predicament and you want advice contact Hayton Kosky Lawyers by email, phone or fill in the inquiry form.